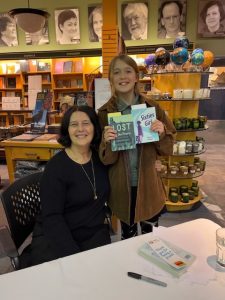 May 15- Miriam and Me– Photos and More News About My Fun Book Launch
May 10/23- Novel News Roundup– Lots of great stuff happening with both of my books right now. 
April 29/23- In Recovery Mode– My launch was better than I could ever have imagined. 
April 27/23- Too Nervous To Really Write- The day before the launch of Sixties Girl was pretty tense. 
April 18/23- Sixties Girl is on the Road– My latest novel is already being read in India, Italy and Newfoundland
April 11/23- I Missed My Book's Birthday- So many exciting things have been happening with my book I forgot that its official birthday was today.
March 25/23- Four Schools- Four Great Experiences– I've just visited four schools thanks to the MYRCA program.
March 17/23- Sixties Girl Has Arrived– My author copies of Sixties Girl have arrived at my door.
March 10/23- Colleen is Coming – Colleen Nelson author of sixteen books and the recipient of dozens of Canadian book awards will be the special guest at my book launch on April 28th.
February 15/23- Bursting with Book News- The first reviews are in for my new novel Sixties Girl and I couldn't be more humbled or pleased with the well-known authors who are endorsing it!
December 16/22- A Bento For My Book- What does a Japanese lunchbox have to do with my novel Lost on the Prairie? The amazing grade six students at John W. Gunn Middle School showed me when I visited their class.
November 9/22- The Best Way to Spend I Read Canadian Day– I visited a grade six class at John Pritchard School. They made me feel like a celebrity!
October 16/22- Does It Get Any Better Than This? – I visited my son's grade six class to talk to his students about Lost on the Prairie.
September 23/22- A Blast From the Past– Lots of exciting things are happening for Lost on the Prairie but the most meaningful have connections to my family.
September 13/22- I'd Like To Visit Your School– I have prepared three different kinds of class presentations I could do on a visit to schools or libraries. I am also open to custom designing something special just for your group.
July 23/22- My Novel is in India- I found out my novel has arrived in India. My book is part of a summer reading challenge and is featured at the Millennium Library in Winnipeg.
July 6/22- She Believed She Could– I received a meaningful gift when I met with a Steinbach Book Club to talk about my novel.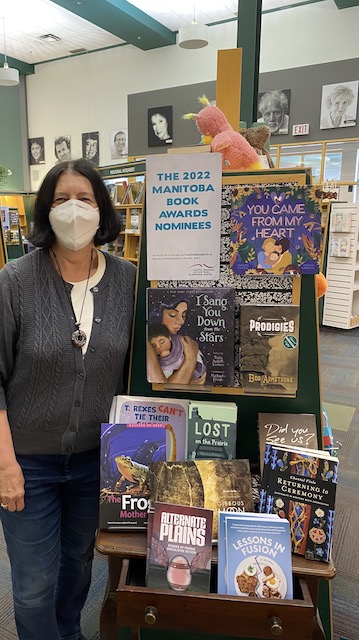 June 10/22- I Didn't Win But………..– A message from a 10- year -old was the highlight of the day I found out I didn't win a Manitoba Book Award.
May 22/22- So Much Novel News- So many things have happened since I was nominated for two book awards I had to write a post about them.
May 19/22- It Was Bittersweet- The news that I had been nominated for two book awards was bittersweet because both announcements came during the week of Mothers Day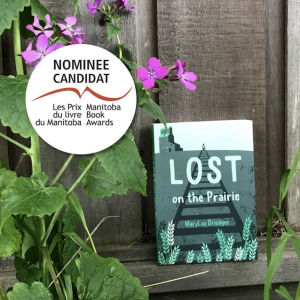 May 7/22- What A Week You've Had!- Lost on the Prairie has been nominated for the Eileen McTavish Sykes Award for Best First Book by the Manitoba Book Awards.
May 5/22 – An Amazing Birthday Present for My Novel- Lost on the Prairie has been nominated for a MYRCA award. What an honour and an opportunity!
March 31/22-More News About Lost on the Prairie– I visit a book club, my book arrives in England and a famous author wishes me well.
February 22/22– Lost on the Prairie in Australia and Saskatoon– My friend and former colleague did a social media post about my novel arriving at her home in Brisbane and I found my book in the McNallys in Saskatoon. Check it out in my February post.
January 16/22–Lost on the Prairie Arrives in Hong Kong- A friend and former colleague in Hong Kong just did a social media post about my novel and I visited a book club to talk about Lost on the Prairie. Eight months after being published the book is still getting lots of great publicity. Check it out in my January post.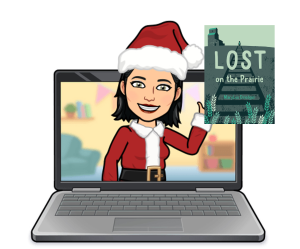 December 16/21- Lost on the Prairie Fetching Top Dollar- I got my first royalty check. Lost on the Prairie is in a new catalogue for educators and some sites are selling the novel for crazy prices. Read lots more exciting news in this December post.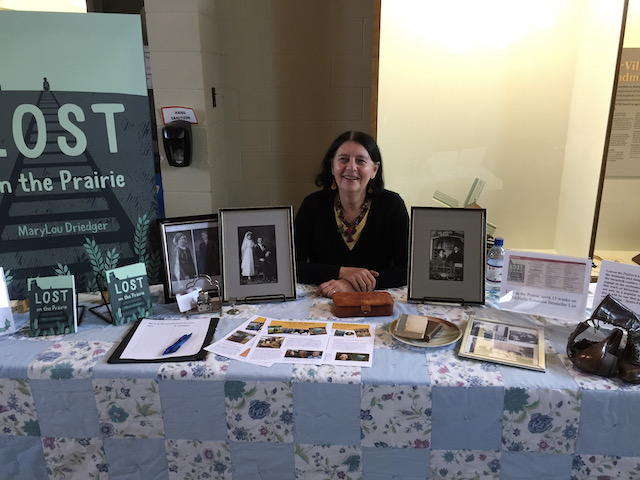 November 19/21- Pantser or Plotter– I didn't plan my novel out ahead of time. I just started writing and let the story take me where it wanted to go.
November 13/21- To Market, To Market– I've created a display and will be selling my book at a Christmas market.
November 4/21- More Lost on the Prairie News– I talk about my book in Drake, Saskatchewan and in Carmen, Manitoba and I'm featured in the University of Manitoba Alumni News.
October 28/21- What A Library- I find Lost on the Prairie in the Calgary Library
October 15/21- Meeting My Second Cousin For The First Time– I meet my second cousin who is an amateur historian. She provides me with background information on the family characters in my book.
October 25/21- Exciting Things Are Happening With My Novel- I got to meet the managing editor of Heritage House, the publisher who acquired my novel contract. A young man created a sketch based on my novel. I've become a BC author of note and I'm interviewed on a history blog. Lots of other exciting things have happened with my novel too.
October 11/21- A Lost on the Prairie Thanksgiving Mystery– My novel appeared in a church Thanksgiving display. Who had put it there?
October 4/21- History Hunting in the Cemetery– I find the graves of many of the characters in my novel in a cemetery in Drake, Saskatchewan.
September 26/21- Meeting My Readers in Person- I did three presentations in Steinbach where I was able to meet some of my readers in person. It was great!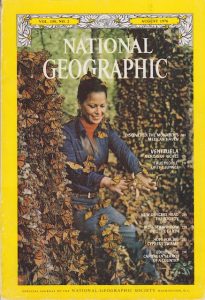 September 22/21- I Am Glad I Made a Mistake In My Novel because it inspired me to research a fascinating story.
September 15/21- A Night At the Museum– I am excited to be part of an event at the Heritage Village Museum in Steinbach on September 22.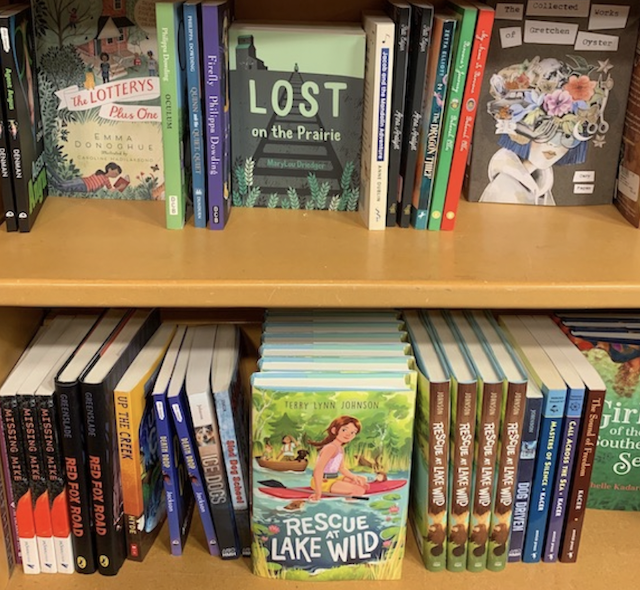 August 27/21- Sharing Shelf Space With A Terrific Tale- I get to meet Terry Lynn Johnson whose terrific book Rescue At Lake Wild shares shelf space with Lost on the Prairie at McNally Robinson Booksellers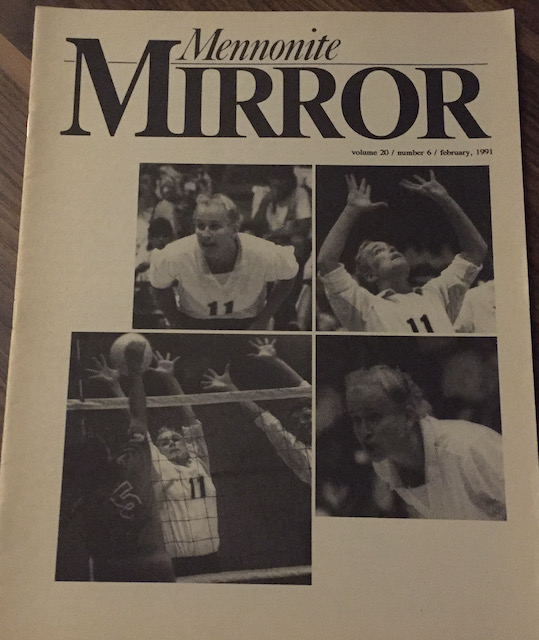 August 12/21- Connections With Michelle Sawatsky– I was interviewed about my book by radio host Michelle Sawatsky. I once interviewed Michelle and wrote a magazine article about her successful volleyball career.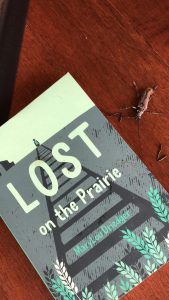 August 18/21- My Novel As a Murder Weapon– One of the readers of my novel said it had served double duty for her when she used it to kill a menacing insect.
July 29/21–My Novel in the Great Outdoors– My nieces have led the way in sending me photos of my book in outdoor settings.
July 6/21- So Much Cool Stuff is Happening With Lost on the Prairie- I am reading Lost on the Prairie to my 92-year-old Dad and it just got an enthusiastic endorsement from celebrated Canadian children's writer Colleen Nelson.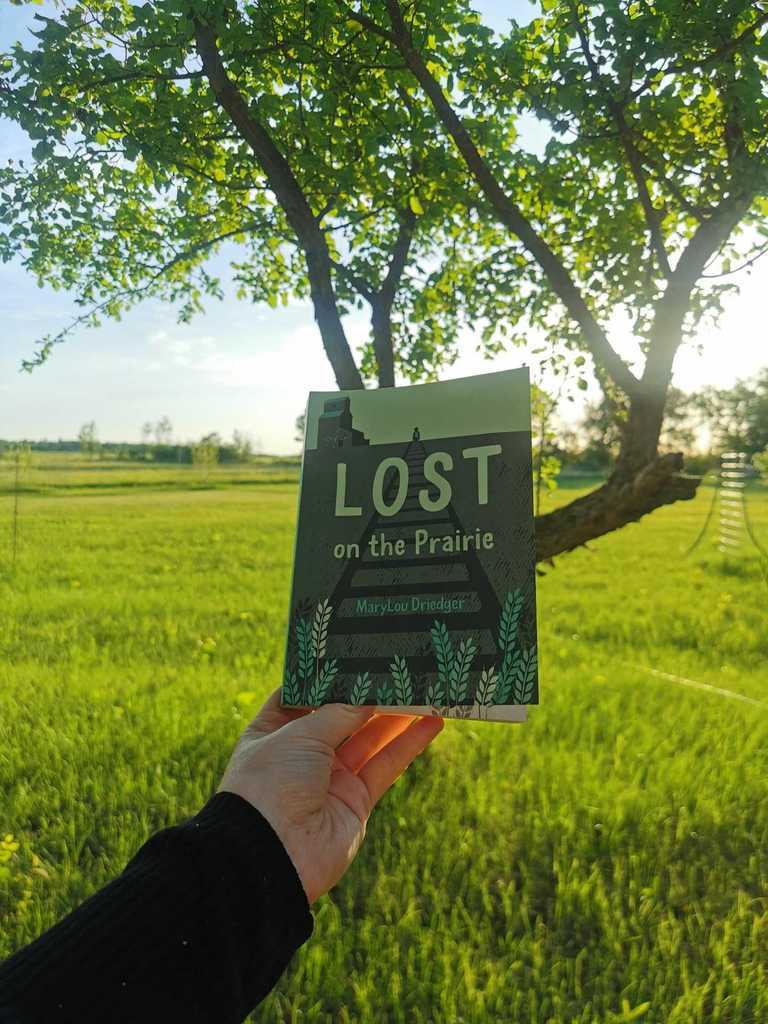 July 17/21- My Book Is Launched!– The online launch of Lost on the Prairie is over. It was a fabulous evening.
June 11/21- At the Top of the List-Lost on the Prairie is now #1 on the bestseller list at McNally Robinson Booksellers and readers have been sending me photos of my book in all kinds of interesting places.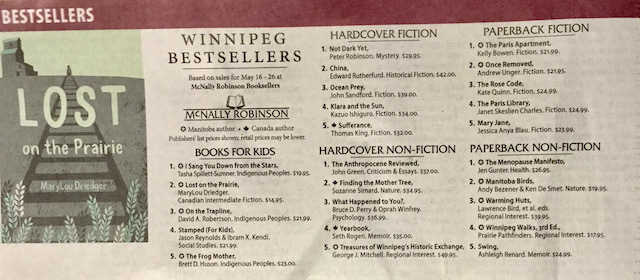 June 1/21- Too Exciting Not To Talk About– So many exciting things have happened since my novel went on sale I just have to tell you all about them.
May 23/21- An Article in The Carillon– read about the first interview I gave for my book. I was so pleased with the article reporter Jordan Ross wrote about Lost on the Prairie.
May 17/ 21- Exciting New Book Developments– So many exciting things happened in the first week my book was on sale-including it making the bestseller list.
May 8/21-A Whirlwind Week– My book went on sale unexpectedly almost a whole month early. Dave made a video of me opening my author copies.
April 30/21-A Dedication For My Book– I have dedicated Lost on the Prairie to my Mom and in this post, I tell you why.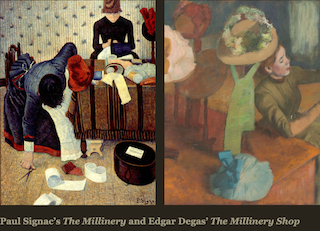 April 8/21-Brewery Flour to Millinery Shops– A video made by a friend at the windmill in Steinbach and some famous paintings of millineries were helpful in researching my book.
March 12/21-Music in Lost on the Prairie– Peter my main character learns about air-ships from a singer at the hotel where he stays one night.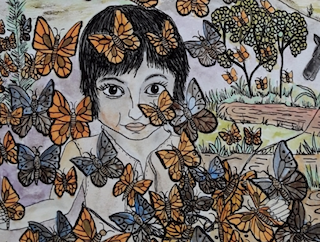 February 16/21- Butterflies Everywhere– My cousin Carol did an illustration for a chapter in the book where Peter and his friend Joe encounter migrating monarch butterflies.
February 9/21-It's Big!– My husband Dave ordered me a very unique Christmas gift to celebrate my book being published.
January 25/21-An Illustration For My Book– My cousin Carol is an artist and she is illustrating some scenes from my book.
January 15/21-My Book Has A Cover– a talented designer Jacqui Thomas has created a beautiful cover for my novel.
December 26/20-A Meal From My Book–I re-created a meal from my novel for a party I attended.
December 14/20-Grandpa Hugo's Puzzles -A family friend who made puzzles out of nails and metal, inspired a scene in my book.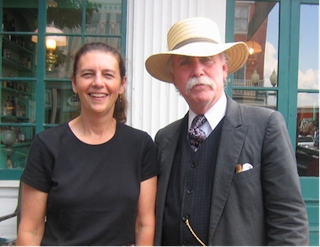 November 25/20-Mark Twain- Peter the protagonist in my novel meets Mark Twain in a hotel in Minneapolis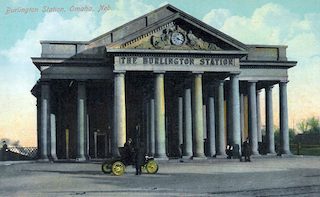 October 28/20-Riding the Roller Coaster- Peter rides a famous roller coaster in Omaha Nebraska
October 20/20-Thanks, Great Aunt Alma– I have connected with the relatives of my great aunt whose words inspired my novel and have learned so much about her and her life.
October 10/20-Author Photo- I had official author photos taken. Now to pick which ones to use.
October 1/20-A Novel For Peter– I wanted my hero to be reading a novel on his journey. Which would be the best one?
September 21/20-Elevator Pitch- I had to write short paragraphs that summed up my novel. See what I decided on.
September 10/20-Mystery Editor– A woman whose name I didn't even know gave me the affirmation I needed to keep on trying to get my book published.
September 16/20-What An Inspiration! – It was Beryl Young's book Miles to Go that gave me the idea of submitting my book to Heritage House. Later after I secured my contract I contacted Beryl and found out more about her exciting career as a children's writer.
September 2/20-A Published Novel!– After eight years of working at becoming a children's author I am finally having a book published.