Lost on the Prairie Arrives in Hong Kong- A friend and former colleague in Hong Kong just did a social media post about my novel and I visited a book club to talk about Lost on the Prairie. Eight months after being published the book is still getting lots of great publicity. Check it out in my January post.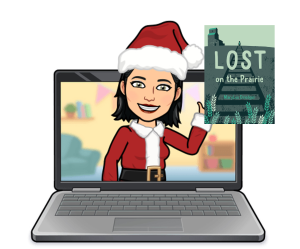 Lost on the Prairie Fetching Top Dollar- I got my first royalty check. Lost on the Prairie is in a new catalogue for educators and some sites are selling the novel for crazy prices. Read lots more exciting news in this December post.
Exciting Things Are Happening With My Novel- I got to meet the managing editor of Heritage House, the publisher who acquired my novel contract. A young man created a sketch based on my novel. I've become a BC author of note and I'm interviewed on a history blog. Lots of other exciting things have happened with my novel too.
A Lost on the Prairie Thanksgiving Mystery– My novel appeared in a church Thanksgiving display. Who had put it there?
Meeting My Readers in Person- I did three presentations in Steinbach where I was able to meet some of my readers in person. It was great!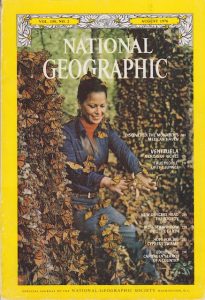 I Am Glad I Made a Mistake In My Novel because it inspired me to research a fascinating story.
A Night At the Museum– I am excited to be part of an event at the Heritage Village Museum in Steinbach on September 22.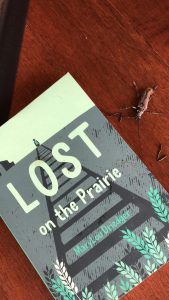 My Novel As a Murder Weapon– One of the readers of my novel said it had served double duty for her when she used it to kill a menacing insect.
My Novel in the Great Outdoors– My nieces have led the way in sending me photos of my book in outdoor settings.
So Much Cool Stuff is Happening With Lost on the Prairie- I am reading Lost on the Prairie to my 92-year-old Dad and it just got an enthusiastic endorsement from celebrated Canadian children's writer Colleen Nelson.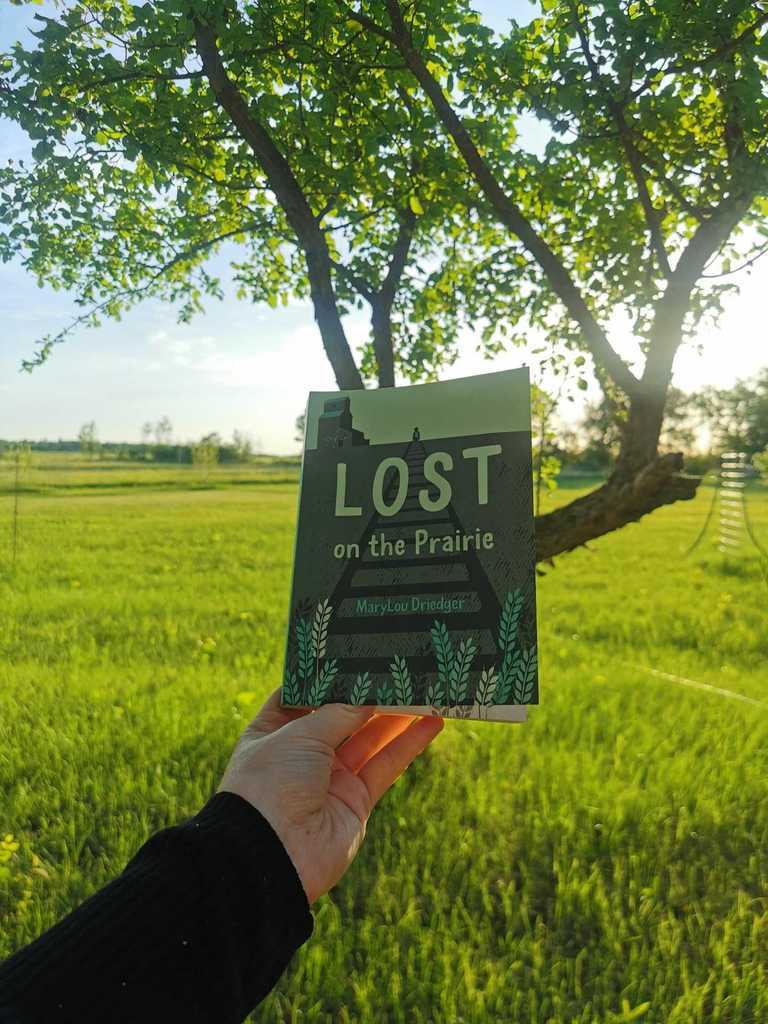 My Book Is Launched!– The online launch of Lost on the Prairie is over. It was a fabulous evening.
At the Top of the List–Lost on the Prairie is now #1 on the bestseller list at McNally Robinson Booksellers and readers have been sending me photos of my book in all kinds of interesting places.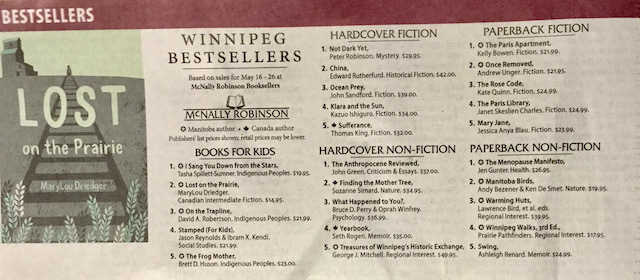 Too Exciting Not To Talk About– So many exciting things have happened since my novel went on sale I just have to tell you all about them.
An Article in The Carillon– read about the first interview I gave for my book. I was so pleased with the article reporter Jordan Ross wrote about Lost on the Prairie.
Exciting New Book Developments– So many exciting things happened in the first week my book was on sale-including it making the bestseller list.
A Whirlwind Week– My book went on sale unexpectedly almost a whole month early. Dave made a video of me opening my author copies.
A Dedication For My Book– I have dedicated Lost on the Prairie to my Mom and in this post, I tell you why.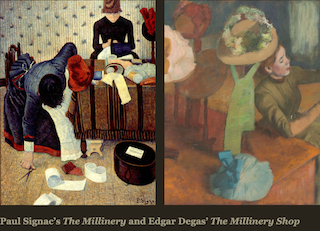 Brewery Flour to Millinery Shops– A video made by a friend at the windmill in Steinbach and some famous paintings of millineries were helpful in researching my book.
Music in Lost on the Prairie– Peter my main character learns about air-ships from a singer at the hotel where he stays one night.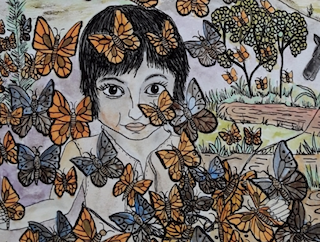 Butterflies Everywhere– My cousin Carol did an illustration for a chapter in the book where Peter and his friend Joe encounter migrating monarch butterflies.
It's Big!– My husband Dave ordered me a very unique Christmas gift to celebrate my book being published.
An Illustration For My Book– My cousin Carol is an artist and she is illustrating some scenes from my book.
My Book Has A Cover– a talented designer Jacqui Thomas has created a beautiful cover for my novel.
A Meal From My Book–I re-created a meal from my novel for a party I attended.
Grandpa Hugo's Puzzles -A family friend who made puzzles out of nails and metal, inspired a scene in my book.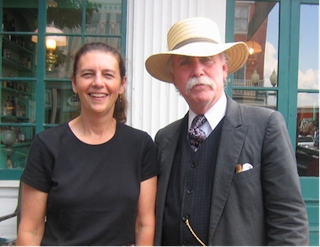 Mark Twain- Peter the protagonist in my novel meets Mark Twain in a hotel in Minneapolis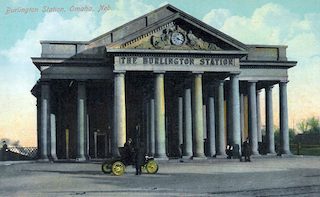 Riding the Roller Coaster- Peter rides a famous roller coaster in Omaha Nebraska
Thanks, Great Aunt Alma– I have connected with the relatives of my great aunt whose words inspired my novel and have learned so much about her and her life.
Author Photo- I had official author photos taken. Now to pick which ones to use.
A Novel For Peter– I wanted my hero to be reading a novel on his journey. Which would be the best one?
Elevator Pitch- I had to write short paragraphs that summed up my novel. See what I decided on.
Mystery Editor– A woman whose name I didn't even know gave me the affirmation I needed to keep on trying to get my book published.
What An Inspiration! – It was Beryl Young's book Miles to Go that gave me the idea of submitting my book to Heritage House. Later after I secured my contract I contacted Beryl and found out more about her exciting career as a children's writer.
A Published Novel!– After eight years of working at becoming a children's author I am finally having a book published.